Touring is a calculated gamble but the stakes are invariably higher in winter.  Case in point, I didn't count on 120km winds and an ice storm the eve of my show in Kingston. The show (or should I say the rehearsal) went on despite downtown Kingston morphing into a wintry ghost town. Reassuring that at least the café bartender and two regulars stuck around. Hearty eastern Ontarians. Some internal resistance kicked in at this point...do I pack it in or - if I remain - mail it in?  Thankfully, the commitment to seeing it through prevailed.  I'm so glad I stuck around to play in the quiet of the narrow but spacious, old room against the backdrop of the (literal!) white noise outside.  It was a rare chance in a live setting to play with subtlety.  
Thankful for great people along the way on these past few mini-tours.  Thank you Red Brick Café, Garafraxa Café, The Acoustic Grill, Musiikki, Brownstone Café and Sawdust City Brewery for booking the shows.  This was one of my most enjoyable series of shows to date.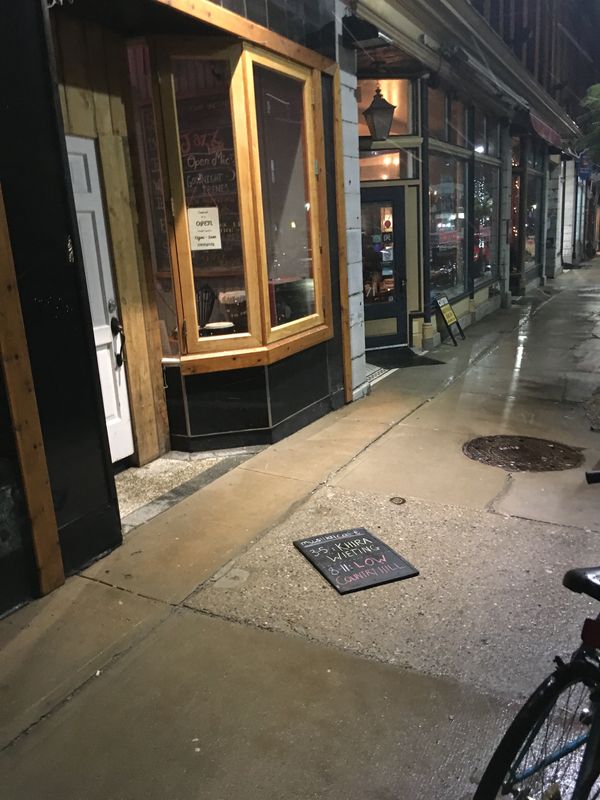 120 km winds blow the billing sign from its protected perch at Musiikki in Kingston.